---
SINCE YOU GUYS HAVE TOURED BEFORE, WHAT WAS YOUR MOST ENJOYABLE PART ABOUT TOURING?

STEVE: Well, I've only toured once with this band. I've been playing in bands for five years. It took until January for me to actually get on the road due to problems with other bands. People not having money or breaking up just before we were suppose to go on tour or something like that. It was really, really cool for me, I was really excited. I guess the thing I really liked about it most... How many times can I say really? Was just meeting, so many people. It was actually really weird, you're in a different town everyday pretty much. So it's just like this huge influx of like stimulation. Because your like talking to so many people everyday, and seeing a million things everyday. It's actually kind of overwhelming, but it's a real rush. Better than drugs.
JEN: Yeah, it's alot of real fun. It's a completely awesome experience, touring rules.
ANDY: Okay, Jen. Tell him your favorite part. We've got to be upfront, dear.
JEN: No, go away honey, you're mean.
ANDY: Jen's favorite part about touring is sleeping.
JEN: It's not my favorite part but I like it alot.
ANDY: We have long drives sometimes, you know ten or twelve hours, and her favourite part is sleeping. Going in the back of the Van and sleeping.
JEN: I just like the feeling of not having anything to do, no bills to pay, no landlord to deal with. You're always dealing with complete strangers all the time. Everyday living doesn't come into the picture, your just flying. You have nothing holding you down. I dunno, it's just a real cool feeling.
STEVE: We recommend it. Try this at home, try this away from home.

DO YOU PLAN ON TOURING IN THE NEAR FUTURE?

ANDY: Oh yeah. We're going away in a week for a month and a half. We're leaving on the 31st of of May and we're coming home on the 14th of July.
PHIL: We also wanna goto Europe.
JEN: No doubt about it, we're going.
PHIL: Yeah, we're going to Europe.
STEVE: That's our goal, we want to goto Europe.
JEN: We just met a really cool person from Australia who said she'd be into booking a tour for us in Australia. All we would have to do, is get plane tickets over there and back and she'd get everything all together. I dunno, there's a couple things that hopefully someday we can get going before the world collapses.
STEVE: Or, if we win the lottery.

DO YOU GUYS PLAY THE LOTTERY REGULARLY OR AT ALL?

Everyone: No.
ANDY: Extra tax tickets.
STEVE: It's like tax for the poor. It's sick, it's really sick. You should see how much money the government makes off that.
PHIL: I am going to win the lottery someday. No, I am. But, I've never bought a ticket. So, if I buy a ticket...
JEN: It's going to be the winning one.
PHIL: Yup.
ANDY: I'm saving up all my luck with numbers karma for Los Vegas. We're playing Vegas on the first of July, so there will be me breaking the bank.
JEN: Us losing our money on tour.
ANDY: We roll into Vegas. First thing I do, I'm pawning our van. No Listen. Because, I've gotten real good at Blackjack.

WHAT ARE YOUR VIEWS ON THE YOUNG OFFENDERS ACT?

JEN: I haven't really thought about this much lately. I knew a bit about it a while back and then I forgot everything.
PHIL: What is that you can't be prosecuted if your under 12?
JEN: There's been alot of stuff in the news.

YEAH, UNDER 12.


JEN: The problem that alot of people seem to ignore is that there's a reason why these kids are fucking up and murdering each other and eleven year olds are raping and pillaging. People just want blood, it seems to me. They just want capital punishment for youth. It almost seems how far people are willing to go. They just don't want to examine the reasons why these kids are doing, what they are doing. I have to say that I think one of the number one reasons why kids are fucking up and doing alot of violent crimes. I don't think wrecking property or stealing is necessarily a bad thing. But, I think crimes against people are really bad. I think alot has to do with TV and everyone always says well, "You know, we've heard that before. That's the element of fringe idea, that's no longer valid." But, I really seriously think that has alot to do with that not just because they're learning alot of violence from TV but because the time they spend watching TV, takes them away from the time they could be spending time with other people, communicating with other people. It's not just TV, there's alot of other factors that are involved as well. The fucked up shit that is going around in the world, the enviroment is falling apart. I think kids are starting to feel like there is nothing left for them, so they are lashing out.
ANDY: I remember when the Young Offenders Act came in. Because, previously to that it was 16 you were tried as an adult. Because, I remember turning 16 and fucking getting busted and going to court and shitting my pants. Thinking, "Oh god, I'm still a kid this can't be happening." Then I went through all that and then they changed it to 18. 18 was the age you went to adult court.
JEN: Well, alot of people make noise about the fact that the kids understand they're under age and they can get away with these things, that makes them more responsible for their actions. I don't want to say that, the kids don't know what the hell is going on and don't know what they're doing but alot of times when I was younger, I didn't really think through the reprecutions of what I did and what I planned on doing. You just kind of do stuff, and deal with it after it happens.
ANDY: Cage the Children.

WHAT DO YOU THINK ABOUT FRANCE BLOWING UP THEIR NUCLEAR BOMBS?

ANDY: It's insane. Isn't that the most 1950's thing, you've ever heard of? I didn't think that would happen. That really fucking blew me for a loop. "Let's blow up a nuclear bomb." Why? I have no idea. They work, we know they work. They blow everything up, they kill millions of people in one gulf. We don't need to blow up another one. My god, it's absurd.
JEN: Especially, not even near France...
ANDY: Let's goto the South Pacific Ocean, a beautiful place.
JEN: Let's not screw up our own backyard. Let's go somewhere else, which is less priveledged and screw up their backyard.
STEVE: "Somewhere where there alot of Brown people."
JEN: Yeah, exactly.
ANDY: You know what the only thing that I saw on TV. The only people they were interviewing about it were white people that moved there. Well to-do europeans who have moved to the island. That's terrible, it's fucking empalling. I can't believe someone hasn't shot that fucking guy. I write to this guy, a friend of mine in France and he tells me the shit that is going on. Talk about a general strike, talk about cuts. Damn, they just shut down the country in France.

WHAT DO YOU THINK AN IDEAL POLITICAL SYSTEM THAT WOULD ACTUALLY FUNCTION IN THIS WORLD?

JEN: I think any particular political system, comes with its own set of rigid rules. That almost negate the fact that it could work. The only exeption is Anarchy, even Anarchy comes with a percieved set of rules. Even though, it's supposed to be anti-rule. But there's alot of misconceptions as well. There's alot of misconceptions about Anarchy. But I think Anarchy is probably the closest system that would probably be the best system.
PHIL: Isn't this sort of Reactionary or hypothetical.
JEN: Well, no. It worked in the state.
PHIL: Yeah, okay. I was just thinking that it was mostly about changing the current system, not necessarily replacing it.
STEVE: I just read this book by George Orwell called, "Almidge to Catalonia" and it was all about when we went into Spain to fight the fascist. To fight Franco during the Spanish Cival War when they supposidely had Anarchy in Spain. It was actually really good. It got me into thinking alot about anarchist cyndiclism as a setup. They had alot of different setups in Spain at that time. Because there were alot of win fighting a couple different communist groups. The Trotskies, the Stalanists, the Anarchists and the Fascists. But, Anarchist Cyniclism, I think, from anything I've ever seen that I think has the most chance anyway to be something that people can look at and be proud of to be a part of and not be impressing people. It's basically just restructuring our society so that it's all built from the ground up. You still have industry, alot of it will be the same. It's not like londism or going back to nature and everybody working in the garden or forging for food in the forest. That's great, but that's not going to happen unless there's a huge natural disaster or nuclear winter or something. It's just a re-structuring so the workers who actually work in the place, actually run it. So they actually see the profits, everybodys equal. Apparently Spain during the Cival War in the armys there were no ranks. Obviously some people were better qualified than others in leadership positions but they weren't paid more, they were given a tital. So, obviously people are going to look upto other people, some people are just better at certain things. But, it's not like this god given right to rule or something. I think, that's how it kinda works in the factories, too. I like the idea of that anyway.
ANDY: It's good to know too, that it actually happens somewhere. Because, alot of times you can read theories or you can talk about stuff or you can go off, but it's kinda like how are you ever going to know.
JEN: Well, you gotta try.
ANDY: You try but, it's cool that you can look at this fame and go well it worked but it wasn't for the fascists and for the rest of the world it could of kept on working.
STEVE: It wasn't actually the fascists that crushed it in Spain. It was the Stalinists according to Orwell. The Orwell said in his book as you know, I'm obviously biased. Everybodys biased, everybody has their own agenda that is pushing. But, that was his take on it. Because the Societ Union didn't want a revolution in Spain. They wanted a social democracy in Spain because they didn't want to jepardize their relationship with France. It was kind of all tangled up. They didn't want a communist state in Spain and they definetly didn't want a Anarchist state in Spain. So the Stalanist that were following the Soviet leadership completely crushed the Anarchist movement in Spain at that time.
JEN: This is kind of off topic, kinda not in a way. A really good book, it's fiction but it's a really good story of how things could be, it's called "Woman on the edge of time." by a writer by the name of Marge Piercie. She's like this feminist anarchist writer, she kinda explores the possibility of an existing community in the future which really works. It's just really awesome, I recommend that book to anyone who's interested.

ALOT OF PEOPLE USE DRUGS IN THIS WORLD TO ESCAPE THE PAIN OF EVERYDAY PROBLEMS, INCLUDING ME. DO YOU THINK THIS IS A GOOD WAY TO DO IT, OR DO YOU THINK PEOPLE SHOULD FIND A BETTER WAY TO COPE WITH THE PROBLEMS THE WORLD FACES US WITH?

STEVE: Personally, I use some drugs as a method of escape from reality because there were certain times when I needed that. Now I still need it sometimes. I don't use drugs anymore for it, but personally I never found it to be a positive experience. I found it to be a real rut, and I ended up digging myself in deeper, deeper, I've seen that happen alot. I mean, some people seem to be able to handle certain drugs and it doesn't have a really negative impact on them., because they can do it in moderation or whatever and if they can do that and thet can alter the way they percieve things and it's actually helpfulfor them that's great. But, personally I'm not into it myself. As far as should people find more positive ways for things. I think, drugs are really pushed by the media and society in general, they're really romantisized. Heroin now is really romantisized. As the only alternative, well your down what do you do. You do what the people in the movies do, you do what the people on TV do. You either get fucking roaring drunk or you go shoot up or sniff coke. Oddly enough they never have anybody smoking pot or anything like that, because that's too mild. I think people need to put that energy into other things. I put it into music, I think that's a positive thing. There's no end to what people could do, like hobbies people can work with instead of doing drugs.

DO YOU THINK THAT WOULD ACTUALLY WORK?

STEVE: Well, it worked for me.
JEN: It worked for me, it worked for him.
ANDY: I was fucking pathetic, I was really pathetic. Fucking drunk and never really that far drunk. But, you know whatever. Brought back, all fucked up. But, I don't do anything anymore. It's kind of because of what I saw, like what Steve was saying being in a rut. I'm like you know, always maybe having a dream since when I was a kid about playing in a band and going on the road and making records. You still want to do that, but I found myself not doing it. I'm like, Why am I not doing this or Why am I doing all these other things and not doing what I want to do? So, I just said that's it I am drunk, 25 years old and still doing this. So, when I was 15 I quit and decided this is ridicolous, I've put all this energy, that I've been putting into ruining myself and I put it into the stuff I really wanna do. Who sits around when they are a kid and dreams of having a beer belly. "Awww... When I'm an adult, I'm going to have a beer belly and I'm going to get my leg broken in a car crash with a guy drunk at the wheel and this and that." So, I just said, Fuck it. Twenty Five, maybe I was kind of old to start saying I'm going to be in a punk rock band and we're going to go on the road and do all this stuff. I'm sure alot of people say, what are you doing, that's for kids or whatever. I know from living that life people are going to do what they want and if getting drunk or getting high helps people, well go ahead.If it ever comes to the day that you don't want to do that, if you find out that it's maybe not helping you anymorethan come and talk to me. Because, I know what it's like and I know I would never say you can't do that, but I also want to let people know what it's like and I know I would never say you can't do that, but I also want to let people know that if they want there are other ways to do things and it's important to let people know. Because, it's really hard to quit drinking. Holy moly, especially drinking eh. Because, drinking is such a social thing. What am I doing every weekend, I'm going out drinking and going to the bar. I'm going here, I'm going to a party. My whole social life revolved around booze, then I quit drinking. Then I'm like, "Ahh, I can quit drinking." Still going to bars or parties but I'm not drinking that soda or whatever. I'm like fuck these people are idiots they're drooling on themselves, they're terrible. So, I'm not going to do that and I'm then I'm like where am I, what do I do. But, you get over it and you figger out what to do.
JEN: If someone told me, three or four years ago that I would be spending my nights at home or at kinkos or hanging out with sober friends, I would of told them they were crazy. I would be partying my ass off, getting drunk as fuck at the bar or a party. I wouldn't be able to fathom it. But, everything's relative. Everything works out.

WHAT WOULD YOU SAY TO SOMEONE, AFTER THEY TOLD YOU THAT YOUR MUSIC HAS CHANGED THE WAY THEY FEEL NEGATIVELY ABOUT THIS WORLD AND NOW ARE POSITIVE THAT THIS WORLD CAN BE CHANGED FROM BEING SO FUCKED UP? BECAUSE, THIS IS HOW I FEEL. BEFORE, I WAS SO NEGATIVE. NOW, I'M VERY POSITIVE THAT WE CAN ACTUALLY MAKE A CHANGE IN THIS WORLD, YOUR MUSIC HAS MADE A VERY POSITIVE IMPACT IN MY LIFE.
JEN: Wow. I'd say that's awesome. That's really cool, I mean that's why we do it. We've gotten letters from some kids, I call everyone kids. I call Andy a kid, I call Steve a kid, just so everyone knows, I always call people kids, just so they don't think I'm an this old lady calling everyone else who's younger a kid. But, we got these letters from people saying this kind of thing. It's unbelieveable, that's the whole reason why we're doing this. We love music, but for it to get across, for someone to understand, for someone to get it, it's like bang the connection has been made. There it is, the circle is complete and that's the reason why.
ANDY: It's cool too, like you say when you come to a realization that there could be other things going on, that's great. I mean, you go off about sticking it to the man and all this kind of stuff and burn down the system. But, if you can write a song and somebody can connect with it, and go ohh geez I've never realized that, this is a good thing. It's like excellent. It's something you did, you brought somebody else out of their shit., it's very good. I'm glad you liked it.
STEVE: What you said too, that's pretty much what happened to me, with music too. It's really brought me out of a rut I was in, and made me kind of look at things. I had all this anger and frustration with things and some of the bands that I started listening to when I was a teenager made me realize that it was okay to feel this way and there were other options. Like if we can do that for other people, I know how that made me feel. So, if we can do that for other people, that's awesome.

DOES ANYBODY IN THE BAND READ FANZINES? IF SO, WHAT REALLY INTERESTS YOU TO READ A CERTAIN FANZINE AND WHAT FANZINES DO YOU PICK UP ONCE IN A WHILE?

ANDY: I always buy, i'm johnny and i don't give a fuck fanzine. They are all about me, being a little kid and getting punched our or oh look at this. I got arrested because this other guy... Ohh, Geez lemme tell ya. I think that fanzines are awesome, because it's another way people can do things. Who would know, that I could grow up to be a guy who's going to write a book. "Oh, I'm gonna write a book." You sit there and write it and then you go and photocopy it and give it away to your friends or sell it at the record store. Excellent, I love it.
JEN: Even something as simple as seeing someone at a show over and over, thinking that they're being stuck up or arrogant and then picking up their 'zine and reading that they're really shy and really intimidated by people and they don't know how to communicate. Just being able to find that out, and knowing that person isn't being arrogant and they're not being a jerk and that they're just shy and insecure. Just like me, just like you, just like everyone. It just kind of brings a connection between people and makes people realize that we are all fucked up and we all have our problems and we're just trying to work them out and it's really cool that people can learn about each other that way.
ANDY: I like fanzines that are stories about people doing stuff. I'm not really crazy about music fanzines.
JEN: I like fanzines that are from the hear. Even though someone might not necessarily be the best writer or do the best graphic work, or whatever. But, if it's from the heart that really comes across and the person's being honest. I dunno, but I like that.
ANDY: Not to say that you shouldn't do a music fanzine, because I think they are pretty important too. I think it's important too, I guess because it's like creating our own media, too. It's like I'm making a music fanzine, I'm not biased by what my advertisers say or this or that. If I think this band should be talked about, I would talk about them. If I think this band sucked shit, I'm going to say this band sucked shit.
JEN: If we didn't have fanzines then there would be no way of networking or finding out about bands. Because the mainstream media is certaintly not going to tell you anything. So, it's very important.
ANDY: If we didn't have fanzines, I would spend half as much time on the toilet.
STEVE: We won't get started on that, how much time Andy spends on the toilet.

IF YOU FOUND A WALLET WITH $500. DOLLARS IN IT, WHAT WOULD YOU DO WITH IT?

JEN: Keep it!
STEVE: What would I do with it? This is seriously what I would do. I would look at the ID and from that I would try and figger out what kind of person it was. If it was a yuppie, I would keep it. I would keep the money, maybe if I was feeling really generous, I would give them their wallet back. But, if it was somebody who I could tell was obviously working class or obviously poor...
PHIL: What if they're nice?

WHAT IF IT'S A POOR PERSON AND YOU THINK IT'S A YUPPIE, THEN WHAT SHOULD YOU DO THEN? OR, SOMEONE WITH NO MONEY AND THAT'S THEIR LAST $500 DOLLARS.

STEVE: Then I would screw up.

...FOR THE NEXT TWO OR THREE MONTHS.

STEVE: Well, then that would be a screw up.
ANDY: Then that's what they're shown for not having a chain on their wallet, live and learn.
STEVE: What would I do with that five hundred bucks? I would probably take everybody I knew out for dinner or something.
ANDY: I found a wallet once with $170. dollars in it. I had two dollars to my name and I was crummin' out living up the street in this cockroach infested room. I road my bike downtown amd I went to the movies when the Paradise was two dollars. I sat there for three movies and then the lights came on. I was like what the fuck do I do now. I looked down and there was a wallet there and I went, "Hmm." I grabbed it and it had $170. dollars and it had all the I.D. in it and the address and everything. I'm like Geez, what do I do. I'm like, "Naw, I'm keeping it." As a matter of fact, I'll tell you what I would do if I found a wallet with $170. dollars. I went to Binos and I got myself a spanish omlette a matter of fact. I wouldn't do that now because, I don't eat eggs anymore.
JEN: If I ever found a wallet, I don't know what I would do with the money but I would always put the wallet in the mailbox. Because, it's such a pain in the ass when you lose your wallet and all your I.D. So, whether or not, I'd keep the money, I don't know. But, I would always put the wallet in the mail.
STEVE: I was telling somebody this the other day. I've lost my wallet a million times but I've only lost it permanently once. I was in high school or something and I lost it with fifty bucks and all my I.D. Somebody found it, took the fifty bucks and turned my I.D. into the school office. I wasn't rich or anything, like fifty bucks was alot of money to me. But, I was like cool I got my I.D. back because that's whats a pain in the ass. Monkey, you know. Monkey's money. I was also living at home and I was a kid. But, I didn't spend very much money.
JEN: Except for that car you bought.
ANDY: Let's not get into Steve's Monte Carlo when he was sixteen.
STEVE: It's what the kids did when they grew up on the prairies. If you didn't have a car you were screwed, because it was always 40 below and no buses where I lived, so there.
JEN: I found money without a wallet and I'll have to tell ya that's the best way to find money because the more dilemma is out of the picture. You're not going to go running down the street and ask who it belongs too.
ANDY: "Oddly enough, the first person I asked about the money, it was theirs so I gave it over."

WELL, IF I FOUND A WALLET. I'D PROBABLY DO WHAT YOU WOULD DO, USE IT FOR MYSELF RIGHT AWAY. BUT, IF I ACTUALLY THOUGHT ABOUT IT. I'D ACTUALLY GOTO THE HOUSE IF IT WAS A LOCAL ADDRESS. I'D GO TO THE HOUSE, SEE WHAT KIND OF HOUSE IT WAS...

JEN: Research it.

RESEARCH IT, AS YOU SAY. IF IT WAS A RICH PERSON... I WOULD JUST WATCH THE HOUSE FOR MAYBE A DAY OR SO. I WOULDN'T WANT TO USE A POOR PERSONS MONEY AND USE IT FOR MY OWN GREED. IF IT WAS A RICH PERSON, I'D STEAL HIS MONEY. IF IT WAS A POOR PERSON, I WOULDN'T WANT TO DO THAT. SO, I'D ACTUALLY RESEARCH MY THOUGHTS.

JEN: That's what you do.

I'D GO TO HIS HOUSE AND IF IT'S A RICH STUPID FUCK, I'D TAKE HIS MONEY AND RUN.

PHIL: Rack up his credit cards, too.
STEVE: Consider it a re-distribution of wealth. That's what the tax system is suppose to do but it doesn't. So, you're doing it yourself. It's okay to steal from the rich, remember that.
ANDY: As a matter of fact, it's not only okay to steal from the rich, it's recommended. I'll tell you something about finding money. I know this guy who was a motorbike courier and he found an envelope with all this money in it and it was from Asia. Some asian country, he wasn't even sure where it was. He just saw it, maybe it was Yen. Oh Geez, it looks like quite a wad of money. But, who knows the value of the money and so worth and he asked somebody who apparently said they knew and they were like, "Yeah, it's worth about fifty bucks." Ahh, fifty bucks. That's cool. So, he put it in his drawer and said maybe, I'll save it for Christmas or something. When I need a little bit of extra money, Christmas shopping. It comes around time when he has to get it and he goes and takes it and cashes it and it's like six hundred dollars. He thought he had fifty bucks, but he had like six hundred dollars.
JEN: What about that gold coin I found? He thought it was worth $20 dollars then it was $150. That was cool.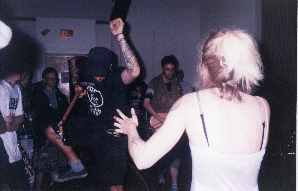 ANY LAST COMMENTS?

JEN: We should give our address. Our address is: PO Box 21533, 1850 Commercial Drive, Vancouver, BC V5N 4A0 Canada and anyone, please write.
ANDY: That's oddly enough the address for, i'm johnny and i don't give a fuck. The most important fanzine in the world that you can get for three dollars postpaid for issue number three.
PHIL: If any bands want to play here...
JEN: Oh, our phone number is (604)254-4152.
Everyone: Thanks.
STEVE: Thanks, for doing this.

YOU'RE WELCOME, VERY WELCOME.

PHIL: Another number to call is, 254-1159. Would be another number to call.

IS THAT A 1-900 NUMBER?

PHIL: No, that's for downstairs there.
STEVE: Yeah, phone sex.
PHIL: (604)254-1159
JEN: That's for shows in the basement. Anyone of those two numbers. [Call the first number, I believe the second is wrong. -ed]
ANDY: Only DIY Country bands...
JEN: Only bands that are non-racist, non-sexist and non-homophobic.
ANDY: I'd love to have a DIY blue grass band or something. The only problem with that is everyone who plays in a blue grass band are ethic. [I think, that's the word he said. -ed]
Everyone: Hey!
STEVE: Listen to this guy, Mr. Generalization here.
ANDY: Remember that band we played with, what were they called? Mother Spitwash or something? They were cool. I wish more bands would want to play here other than punk bands.
STEVE: What about that band we played with in Goleta? That dude that used to be in a hardcore band, that used to play the guitar. I don't know what the hell that was.
ANDY: No, he's talking about the guy from like Downcast.
STEVE: Yeah, that guy used to be in Downcast. He's in this countryish kinda, twangy...



Page 1 | Page 2