by Brian Disagree For "Thought Is A Crime" Web-Zine
---

This interview took place in the basement, where shows are held off and on in the coziness of Submission Hold's house on May 21st in the year of 1996. The reason, I chose Submission Hold to be interviewed in this issue, is mainly because they are one of the true punk bands of today, and of course because they are one of the best local bands in my scene. Their lyrics are some of the best lyrics, I have ever read They're very influential and will make you think for the better. So, now it's time to go on and read this interview with four of the nicest punks in our scene, check it out. -Brian Disagree

WHO ARE YOU AND WHAT DO YOU DO IN THE BAND?

ANDY: Andy, I play the bass.
JEN: I'm Jen, I sing.
STEVE: I'm Steve, I gripe about how sick I am.
PHIL: Hi, I'm Phil, I play the drums.
ANDY: I want to add to that. I also... Not only do I play the bass. But, uhmm... I'm trying to think of something witty off the top of my head, but all I can think of is my hat.

WHEN DID YOU GUYS START THE BAND AND WHAT WAS THE MAIN REASON FOR IT?

JEN: We started three or four years ago. We started off as Insult II Injury and then we toured a couple times under that name and we found out there were all these other Insult II Injurys and so we changed our name to Submission Hold and now Submission Hold, I think it's been a year and a half under that name. The reason we started a band, was love of music and wanting to get a certain message across and putting the two together. Which I think we've done and we keep trying to do.

WHAT WOULD YOU TELL SOMEONE WHO ISN'T INTELLIGENT ENOUGH TO KNOW EXACTLY WHAT YOUR LYRICS MEAN BUT HAS AN IDEA? BECAUSE, OBVIOUSLY THE PERSON WRITING THE LYRICS SEEMS TO BE VERY EDUCATED, NOT JUST IN A SCHOOL SENSE, BUT ALSO ABOUT WHAT IS HAPPENING IN THIS WORLD WE LIVE IN.

ANDY: I don't know about that. Alot of people come right, and they're young. So, it's not like they're not worldly, or they don't have enough experience with life to know about these things. I think that you just have to talk to people, like they're people and not like you're trying to teach them something, rather than going off. I mean, when you write a song you write it to be poetic amd you write it to try and have metaphore. You write it, however you want to write it. But then, if your just telling somebody about it, your going to explain it in real words. Maybe the main thing would be to try and tell them to think about your actions before you do things. Think about how it's going to effect other people and other things around you. You don't have to be a genius to do that. Have a bit of consideration for other people.
STEVE: Anothing thing too, is you mentioned the school thing. I just want to point out that school doesn't really mean... You can not go to school and still be very intelligent. I think, that's important to point out. You can educate yourselves from music. There's alot you can learn from music. Obviously, not every band or every song. But, alot of punk music in particular has alot of information in it. Alot of lyrics are poetry so you learn to interpret them and then it helps you later on. It kind of gets you in a mind set where you can apply that to other things you look at and your able to interpret things better or differently.
ANDY: Half of us are high school drop outs, and then we all write words in the band so there ya go, there goes that. Boot that out of the water with you and your education. Then again, Jen writes most of the lyrics, she was a university dropout. So, she's got one up on us.


I HEARD THROUGH SOMEONE THAT THEY THINK YOU'RE THE BEST PUNK BAND IN CANADA. IS THIS TRUE?

JEN: Yes, it's most definetly true. Fuck, really? Did you really hear someone that really said that?

YEAH, I DID.

JEN: Wow, that's really cool. In Canada? I thought that you would say Vancouver. Canada, no less. Wow, that's really nice. I think there's alot of really good punk bands in Canada. There's no best band. Everyone has different tastes, right. So, one band's gonna be anothers favorite. Alot of people really really like us and alot of people really dislike us. So, it's just a matter of taste. There's alot of good bands like Propagandhi, they're really good and they're Canadian. There's tons.
ANDY: I-Spy.
JEN: I-Spy, they're awesome.
STEVE: Daddy's Hands.
JEN: Daddy's Hands, Enfa/lak.
ANDY: We're just trying to name off all of our friends bands.
JEN: There's tons of great bands in Canada. Alot of them don't get too much exposure in Canada, because alot of them don't really tour and I think, it's really hard if you don't tour that it's really hard for people outside where you are, to find out about you. But, there's definetly alot of good bands.
ANDY: You know, the cool thing I found out about Canada too is, is that theirs more diversity than America. You know, I think maybe it's just because, there's not so many people doing it like in America. I'm booking this tour right now and I'm calling people. "Oh, I'm doing a show. But, their emo bands at night and you wouldn't fit in and people wouldn't like you. So, I'm not going to let you play." It's kind of weird because here, theres not as many, so everybody just plays together and different people can listen to different stuff. So they're getting influences from different places. So, there's a wider variety of bands. Maybe, not even a wide variety of bands...
PHIL: Less generic, maybe.
ANDY: Yeah.
STEVE: Bands that are around are less generic though because they have...
PHIL: Because, they don't have to fit into a certain style.
STEVE: It's a theory anyway.

YEAH, I KNOW. WE SHOULD PLAY TOGETHER. WE'RE ALL FRIENDS RIGHT AND WE'RE DOING, WHAT WE'RE TRYING TO DO. IT DOESN'T MATTER, WHAT KIND OF MUSIC YOU PLAY. IF YOU PLAY POP OR HARDCORE, WE'RE ALL DOING IT FOR THE RIGHT REASONS, RIGHT?

JEN: Yeah. That's why I like the shows in the basement. We decided before we started them, that we kind of wanted to not cater to any one particular classification or genre. Like we just didn't want it to be punk or emo, hardcore or straight-edge or whatever. Just like anything. Like anyone who approaches us as long as they weren't a complete asshole. We would be interested in doing a show. That's the problem Andy ran into, in the states was that rigidness. That they wouldn't book a straight-edge band and an emo band and a punk band. It has to be one thing or nothing at all kind of thing, which is really dumb.
STEVE: You also have to know when to draw the line, sometimes. You don't want Resistance Records bands playing with you or bands that are just spewing shit like, hatred.
JEN: Well, I just said like assholes...
STEVE: I'm just expanding on the term, asshole. It's kind of an all encompassing term.

WHAT WOULD YOU LIKE TO GET ACROSS TO THE PEOPLE WHO ENJOY YOUR MUSIC?

JEN: These are two words I use alot, Empathy and Respect. I really wish that more people could kind of be able to put themselves in other people's shoes. I'm not perfect, I have a hard time doing it sometimes too as does everyone in the band. But, it's something that I think that's one thing everybody should work harder too achieve and that's one thing I really want, and I think our band gets across alot. Is that sense of Empathy and for other people's life experiences and other peoples spaces and stuff.
ANDY: Empathy, like you were saying... People might not know these words and stuff because I didn't really know what they meant before Jen started going off on it. Empathy pretty well just means like putting on somebody else's shoes for a day and trying to see through someone else's eyes. I just wanted to say that. Jen dangles that three and a half years University.
JEN: Oh, shut up I do not.
ANDY: Just joking.

WHAT DO YOU GUYS DO WHEN YOU'RE NOT PLAYING IN YOUR BAND?

ANDY: Work. I'm telling you, I work so bloody much I've fucking been dreaming about being at work. Work, work, work. It's pathetic. But, that's kind of not something we need to talk about. I write this fanzine here, as you can see. I'm Johnny and i don't give a funk, it's only 3 dollars postpaid. We do this Food Not Bombs thing, too. We make a feast down at the park every saturday.

WHICH PARKS THAT?


ANDY: At Grandview Park.
JEN: 3 o'clock Saturday.
ANDY: 3 o'clock Saturday afternoon at 1200 block Commercial Drive. It's not just us, it's like a whole bunch of people. We take part in it. I think between work and the band and Food Not Bombs, it's just about as far as I can go.
JEN: Food Not Bombs. I do that too. and also I've been doing alot of graphic design and silkscreening artwork lately. But, that's only been like that for the past three months. Before that I kind of just sat around like a lump. But, yeah I've been doing alot of cool artwork. I want to keep doing it after we get back from our tour.
STEVE: I'm kind of in the same rat as Andy where the job thing is running my life. But, other than that I do a radio show once a week on CO-OP Radio. Might as well plug it, Stark Raven, 7:00pm Mondays. Politics, Music. Political Music.

WHAT STATION?

STEVE: Co-Op, It's 102.7FM. Except if you're on Cable then you'll have to listen to something else. CFRO, if you want to look it up in the phone book. I think it's 102. Comes out on cable as well.
PHIL: You get it on the island and in the interior and everywhere. It's really cool.
JEN: If bands want to get shirts of patches silkscreened cheap, they should get in touch with me.

HOW DO YOU FEEL ABOUT AMERICAN INTERVENTION AND THE WORLD AFFAIRS AND WHERE DO YOU THINK IT'S LEADING?

JEN: Oh geez, I think it's leading to hell in a basket is where I think it's leading. America is the best of worlds and the worst of worlds all in one country. It has the best of everything and the worst of everything. It's built itself up to be this huge thing and it is no longer than be all and end all, it's got so many problems. To all the other countries in this world they look upto America as this shiny beacon, this shining example.
ANDY: No.
JEN: You don't think so? Well, some of them do.
ANDY: You said all these countries in the world. But, I think alot of them look on America as a big fucking bully. Somebody who's bossing around and killing their people.
JEN: Yeah, for sure. But, there are some countries that look upto it as a shiny beacon of the way the world should be, democracy, freedom and that's all bullshit.
STEVE: That's their propaganda, you know. That's what they put out to the world. They hold out their middle class, as what everything as an America and you know the TV pictures that, reach other countries and never show the shabby towns and stuff in the south, and the fact that the United States has the hugest prison population in the world.
JEN: And, also, they take resources from other countries without any via relief, it's unbelieveable. They just go in and take things and don't give anything in return. I don't know, how they get away with it.
ANDY: It's Colonialism. It's an established way of doing business.
JEN: Yeah.
STEVE: It's kind of ironic though for a Colonialist, they've sent so much of their stuff overseas to get the cheap labour and stuff, that the country is collapsing upon itself. So, it's going to be interesting to see what happens in America. We're near America so it's going to be here, too. We're in for some bad times.
JEN: It's going to be scary.
ANDY: Dig up your yards now and start planting your gardens. Because, you're going to fucking need it. People don't think about food. I'm telling you man. We better start being self-sufficient with our food, pretty fucking quick. Because, you can go on about your political theory and your this and that and your yadda yadda. But, when the system colapses and falls in, it's not going to be Mad Max running around for gasoline, we're going to be looking for tomatoes, you know what I mean.

WHAT DO YOU THINK ABOUT BANDS USING THE SCENE AS A STEPPING STONE TO SELLING THEIR SOUL TO THE CORPORATE SCENE?

STEVE: Well, personally, I don't like it. No, I think it's something that has been a problem in recent years, since has gotten commodified and taken over by the corporations. It sickens me alot. To see some of the shlok that people are turning out and it's being marketed as being punk. Alot of punks are listening to it, and they think that's what punk is and that's what really kinda bothers me is there is all this potential and people are being diverted away from the bands that really have something to say and are doing things D.I.Y. D.I.Y. bands are... I don't know if I want to use the term Revolutionary cause it has a bunch of weird connotations to it.
ANDY: The dictionary thing of Revolutionary is to make change.
STEVE: Yeah, but DIY bands work outside the corporate sector. Punk initially, I think was an attempt to provide entertainment for the punk community which works outside the corporate sector, so we're self reliant for our entertainment. We should be self reliant for everything, but atleast entertainment is a start anyway and it's diverting people away from that.

SO, DO YOU THINK... SAY A BAND IS ON A CORPORATE LABEL OR SOMETHING, DO YOU THINK THEY'RE STILL A PUNK BAND?

STEVE: I'd say, it's rock. Like, there is two parts of Punk. Like you can be a punk and play in a band that's punk. But really doesn't really sound anything like a punk band. Like I would consider Chumbawamba a punk band. Even though, they sound like a 80's pop band. But their politics are somewhat punk. But then again they are on a Major Label now aren't they? So, I guess that pretty much negates that.
ANDY: Three years ago, I would of said Chumbawamba. Three years ago.
STEVE: I don't know, a band like Daddy's Hands right. They're pretty well, pop. They're weird pop or the Dog Faced Hermans or NoMeansNo, it's not really punk. But, the ethics are somewhat punk. I think that's a hell of a lot more punk than say Green Day.
PHIL: The word punk has been totally over used, the meaning of it is just depending on who you are.
JEN: If you consider yourself part of something that is anti-mainstream, unless you're doing something that is somewhat political active or somewhat political orientated. Then I don't see how you can consider seeing yourself, anti-mainstream.
ANDY: I don't think that politics really has to come into it.
JEN: Punk is a way of life, not just politics.
ANDY: Yeah, okay. You sortof came out saying, Politics, Politics. I think you can have a pop band and you can sing about being in love with your girlfriend or you can sing about getting on your bike and riding down the street or something like that. If you're doing it on your own, and you're just doing it for the love of writing a happy pop song. That's fucking great. That's punk as fuck, that's even more punk than screaming about anarchy and smash the state. Because, that's what people are saying, "Oh, you have a thing about Anarchy and Smash the State."
JEN: That's political, though. See everyone takes their life and and takes politics, and puts them in separate containers. I think life is politics, politics is life.
ANDY: That's what I was saying. That's what I just said.
JEN: I think we are agreeing here, but why are we fighting?

IF YOU WERE A POLITICIAN, WHAT WOULD YOU DO TO CHANGE THIS WORLD TO BETTER IT AND EVERYONE?

JEN: I don't know where one would start. There's so much that, I think is so fucked up and my solutions to the worlds problems aren't necessarily someone elses. So, I mean that would be really hard. I think there are some things that are basic to human existance and survival and those things aren't provided. The fact that billions of dollars is spent on military weapons and there are people starving and uneducated and living in shacks or on the streets. I think that dichotomy is really fucked. There is so much wealth, there is so much money that is out there. We have the capacity to feed, clothe and house every single human being on this planet and we just don't do it, that's so fucked up. That's probably where I would start, right there.
ANDY: If I were a politician, I would fire all the cops.
JEN: Why? Then they're going to come right after ya. Then you have to put them down.
ANDY: Check your gun at the door buddy, you're on the streets. Then we'll see whose got the fucking guts.
JEN: Then we'll see whose boss.
ANDY: I like what that one guy said. We met this out-to-lunch going upto Alaska starting his own country guy when we were in Eugene. He was pretty fucked up, but one cool thing he said, was term limits for cops. A cop could only be a cop for two years.
JEN: And, have to work in their own community.
ANDY: Yeah, and work in their own community. I brought that upto him and said, "Cops, should have to work in their own community." He's like, "I don't think so, I fucking hate my neighbour." Anyways, he said term limits for cops. That kind of made a bit of sense because if you know in two years you're not going to be a cop anymore, you're not going to run around and kick the shit out of people and pull a power trip and be like a typical cop. That is going to change around the whole police force. The whole idea a little bit.
STEVE: Do you think that would work, though?
ANDY: Probably not, but...
STEVE: I'm thinking like the military kind of works that way in alot of ways. Alot of people go into the military for careers and alot of people go in for four years or whatever, you that stint once in you have to do. I think the kind of people that are driven to that are...
PHIL: What if we just police ourselves. It's about to the point where we should just police ourselves everyday. That way we don't need any cops. Our society is just so diseased from the roots up. It's pretty much gotta start all over again, I think. There's alot of things you can do, but not everyone wants to do them. There's alot of politicians that have alot of good intentions but once they get into office they sort of get bogged down by the whole system and they can't get anything done. Because of the system they have to work in. So nothing really ever changes.
JEN: But change can be affected. Things can happen on a small scale. Something like Food Not Bombs is one of those amazing things.
STEVE: Grass roots.
ANDY: Thing is we don't need politicians to make the change. We can just do it all. Because, we're all the same as a politician. We all have blood shooting through our veins and we're made of the same thing, we are the exact same people. So just because somebody is voted in or somebody does whatever. Doesn't give this fucking idiot all the power to say, "You have to do this." If you want to do something, just go out there and get food, cook it up and give it to somebody.
JEN: Do you know what I'd really like to see? I think this would be absolutely unbelievable. A politicaian that actually did what they said they were going to do. It always astounds me how every election every politician comes out with all this stuff they're going to do. "I promise I'll do this, I promise I'll do that..." And, everyones going "Oh great, I'm going to vote for this guy because he promises to do that or I'm going to vote for that lady because she promises to do that." Then they end up being pissed off when they find out they're being lied to.
ANDY: Unbelieveable, they can't believe it. "But, you said you would do it, but you didn't..." Well, no shit.
JEN: Get a fucking clue. That's the nature of the whole system, it's based on lies and greed. So, it astounds me that people continue to put faith into the politicians.
PHIL: All I've seen in the papers in the last week is how everybody is only fed up with the election and it's not going to change anything. It's the same every year. It's still the same, it still goes on. People aren't trying to provide alternatives. They're still gonna go and vote or whatever.
ANDY: No matter who you vote for the politicians are always going to win.
PHIL: Exactly.
STEVE: There's very little difference between the system we have and fascism or something. Because the choices we are given are basically on a political spectrum and are basically the same thing. One guy supports is like really into the corporate agenda all the way. Corporate Agenda, Corporate Agenda. The next guy will be like, "Well, I'm into the Corporate Agenda but I'm kinda representing the upper middle class." The far left guy, way out there guy like the NDP or something. "Well, I'm way into the corporate agenda but I support the middle class and I've made pretentions to supporting the working class." That's shit.
ANDY: It's like the whole spectrum of thought and these partys your supposed to vote for all these little dinkie piss-ant peace and they're going, "But, it's freedom and democracy and you've got the right to pick your leader." Well, geez you know...
STEVE: If anybody tries to get outside of that they're supressed.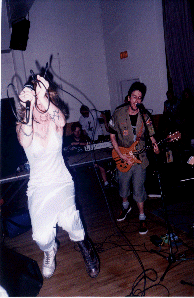 JEN: Like the Green Party. Like I think the Green Party are a bit better than the other ones. But it's actually unbelievable how the media completely ignores the Green Party, completely. They won't air any of their interviews or anything like that.
STEVE: They're not even that far out.
JEN: I know, exactly.
STEVE: But, I'm thinking about groups like AIM or something. Something that was quite radical, or the Black Panthers. They were actually physically destroyed. They weren't destroyed thank-god. The government tried their best to destroy them. That's how the system works.
JEN: Scary world.
STEVE: That's supposed to be freedom and democracy and all the things. Mom and apple pie and all the things we are supposed to be proud of. It's a very big crock of shit.
JEN: And, you find alot of people just don't question anything. They absolutely refuse to question anything, it just seems so weird. I mean, there is so much to gain and so little to lose from questioning things. I guess, Ignorance is Bliss on one hand. Living your life completely ignorant of all the fucked up shit that is going on is pretty selfish, I think. I just wish people would question things more and open their eyes more and be willing to speak up and say this is fucked. Because things do need to be said alot than they are.
STEVE: I think Ignorance is like Superficial Bliss. If you know they work all the time and they just have the weekends off to play with the kids or whatever... They sortof think they are having a good time, they can sit and watch TV and it's all fun and stuff. But at the heart of it they aren't really happy. You know they're not really satisified. So, yah it's superficial.
ANDY: Atleast we're not happy or satisified but we know it.

YOU GUYS HAVE RELEASED TWO TAPES SO FAR WHAT DO YOU HOPE TO PUT OUT IN THE FUTURE?

ANDY: There's an Insult II Injury tape and then there was a Submission Hold - Buzz of the Buzzless Situation tape. And, then we just did this tape, the Veterans of the Cola Wars. Oh, we did a split 7" (Insult II Injury) with Mexican Power Athority. We just finished the two seven inches. One, "Garlic for Victory", it's put out by these kids in California. We recorded it at the same time as the ones on the tape and they're on the tape. And another 7" we're doing ourselves is called "Kamikaze Quagga". In the future a bit more of the same.
JEN: We want to put out a full length LP. I think, we're shooting for that.
STEVE: We haven't really talked about it. We know we're going on tour and I guess we'll probably talk about it on tour. Figger out what we wanna do next as far as recording goes.
JEN: I think we all want to do something bigger. Like an LP or CD. If we put out a CD we'd put it out on something else as well.
PHIL: CD's do suck.
ANDY: Yeah, I could fill up a box of tapes going off about how much I hate CD's. But not to say we'd never put out a CD because they're things you do that you don't like to do. But you just do it because I don't know why.
JEN: If you put out just a CD and it's just on CD, I think that's kinda crappy.
ANDY: If we put out something on vinyl which I would love to do. I love vinyl. But it's fucking elitist as hell. People don't even have record players anymore.

I DO.

ANDY: So do I, I don't have a CD player.
JEN: Realistically, I think the cassette is the way to go.

YEAH, IT IS.

JEN: It's weird because vinyl and CDs always get the most talked about and argued about and blah blah blah... Everyone ignores the poor cassette. But the cassette, everyone has a cassette player or a walkman or something.
ANDY: Or a car stereo.
JEN: Cassettes are just really accessable and you can do a cassette, just as good as you can do anything else.
STEVE: Well, I have to say... I think out of those three the Vinyl is the best because it's the permanent one. Cassettes everytime you play them, they lose quality and eventually they'll die. And you don't see cassettes around from twenty years ago. I've heard this stuff, but I don't know if it's true. Apparently they make them (CDs) so that they're... It's the plan of Obsolescence thing where after ten years they're going to lose all their data so you're going to have to re-purchase it. But, I don't know if that's just the urban myth or what.
PHIL: The first ones they were made like that. But the ones they make now are supposed to last longer.
STEVE: I know Sony doesn't have the patent anymore so that is used to be what when you made a CD you had to give so much money to Sony. But now you don't. So when you do CDs none of the money goes to corporations.
JEN: The thing alot of people don't get is that CDs cost about as much. if not a little bit cheaper in large quantitys than records or tapes. But people are still getting horrendously burned for CDs because there is this weird expectation that CDs are expensive and that's it. People are just getting burned: right, left and centre for CDs because there is no need for them to be that much.
ANDY: You go to a record store and you buy a CD, I guess. I've never bought one unless it's been off a friend...
JEN: And, we've been asked to be on a Food Not Bombs compilation that they're actually going to pay for the recording. Which is new, that's never happened before. They're doing it for all the bands, which is really cool. What? What's that?
STEVE: No, I think it's great. I hope they make money on it though.
JEN: But that's awesome, it's going to be fun.



Page 1 | Page 2